#1 Concrete Contractors in Adelaide – 4.9 Star Rating Over Hundreds of Beloved Customers! Fill in the Form for a
100% Free On-Site Visit.
#1 Concrete Driveways Adelaide
Providing The Best Concrete Services of the South AU and Adelaide Area!
How to Get a Free Quote:
Step 1: Fill in Form or Call 0483 907 977
Step 2: Submit Form
Step 3: Receive Free Quote Fast!
Only Takes 20 Seconds!
You Have Nothing to Lose By Filling the Form!
Over 10+ Years of Experience in The Concrete Business.
Featured
On

:

Concrete Driveways Adelaide
Are you looking to install a new driveway or repair an old one? We can help you with either!
Nearly every residential home has a driveway. The driveway of any home is such a prominent feature and selecting the most suitable surface is an important decision. We can help you add value to your home and help you construct the best driveway.
We are a family owned company and expert concrete contractors in Adelaide, and we can help you with your driveway needs. You can rely on our craftsmanship to either create a brand new concrete driveway or repair an old one.
Although there are many materials that can be used for a driveway such as pavement and asphalt, one of the most popular and best materials for a driveway is concrete. We invite you to learn why!
Please give us a call! We want to help!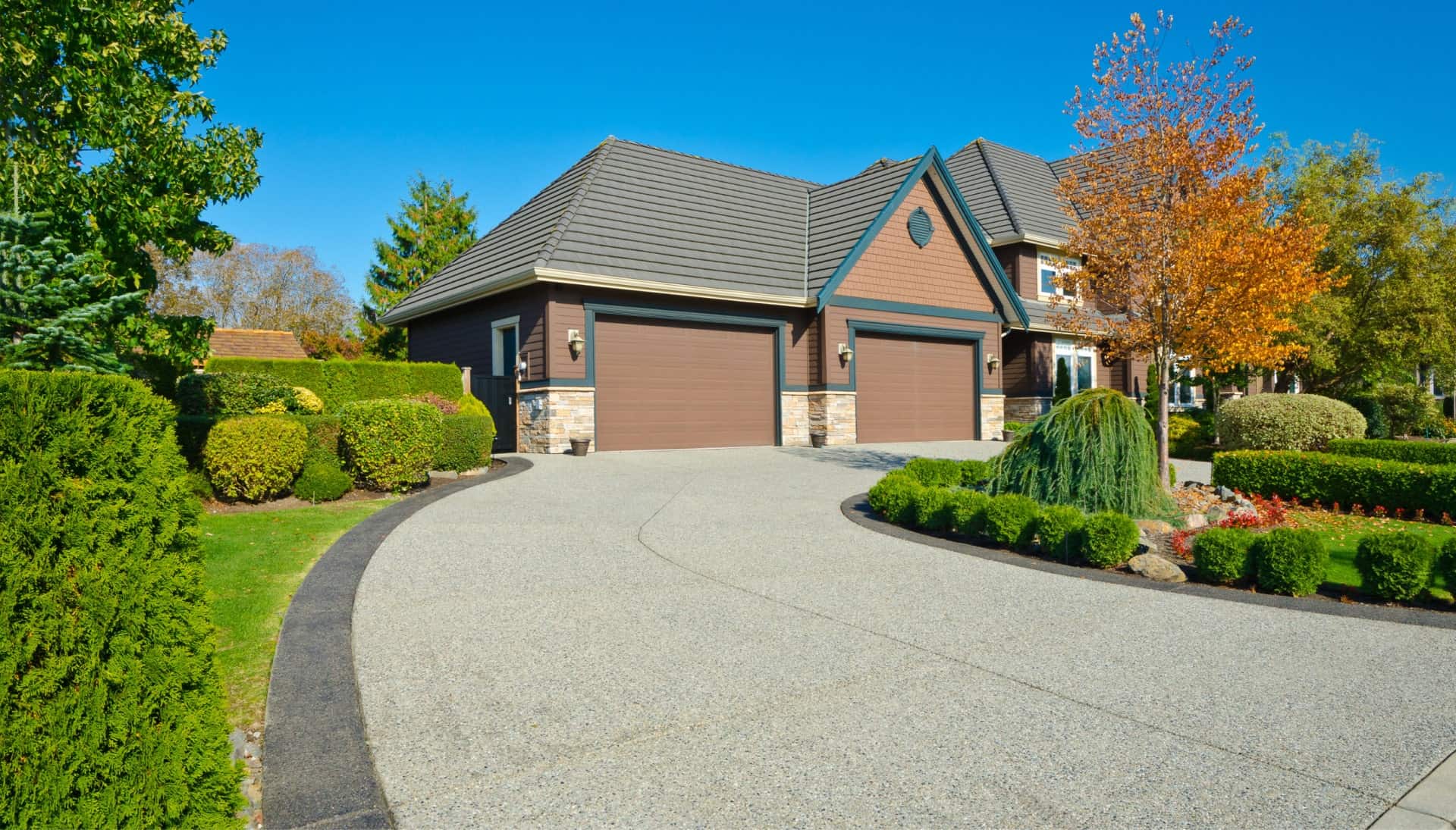 Concrete Driveways in Adelaide
Concrete is one of the most common surfaces used for driveways. Concrete is also used for outdoor footpaths and carports.
This is because of concrete's durability and how easy it is to clean and maintain. Concrete driveways are practical, easy to install and also of low cost. Concrete rarely needs cleaning and if it does it can be done using everyday household items such as a broom. Although it is recommended that a sealer be applied every couple of years, concrete can be long-lasting with very little cleaning involved.
Compared to other materials such as stone, pavement and asphalt, concrete is arguably the best material for a functional driveway.
Paired with a footpath or pathway, a driveway can be an eye-grabbing landscape feature of your home.
Call: 0483 907 977
What kind of concrete can be used for a driveway?
A concrete driveway might sound like a good idea but it is worth noting that you can use several types of concrete to build your driveway.
Exposed Aggregate Concrete
The most common type of concrete used for a driveway is Exposed Aggregate Concrete.
Exposed Aggregate Concrete is the result of an outer layer surface of concrete being stripped away to reveal a rough but natural-looking undertone. The exposed layer creates a less refined and natural look that other types of concrete or building materials may not be able to.
Exposed Aggregate driveways are popular because they create a natural look but are also functional. The concrete, like most forms of concrete, is durable, long-lasting and easy to maintain.
Coloured Concrete
Coloured Concrete is concrete that can be dyed or stained in a colourful way so that it is more than just a "plain slab of concrete". Many people are unaware that coloured concrete can be used for driveways to make them look livelier and to step away from using generic grey concrete.
A Coloured Concrete driveway is a good choice for those who take pride in their driveways and want a driveway that looks amazing. Coloured Concrete is not only a decorative feature as it is, being that it is made from concrete, durable, long-lasting and a functional type of concrete to use for driveways.
Stamped Concrete
Stamped Concrete is concrete that is textured and that can have the look of natural stone, slate or even wood. Like Coloured Concrete, Stamped Concrete offers a wide variety of designs.
The benefits of Stamped Concrete include its low cost, low maintenance and versatility. Stamped Concrete is also durable being able to withstand traffic and weather conditions. If looked after properly, Stamped Concrete can last for years.
Things to consider
Although you need to choose a concrete that looks good, you also need a surface that is functional and that can accommodate the weight of one or more vehicles. Luckily, concrete is a functional and durable solution that also adds aesthetic value. That is the main benefit of using concrete like Exposed Aggregate Concrete, Coloured Concrete or Stamped Concrete.
Call: 0483 907 977
Concrete driveway vs Asphalt driveway
Asphalt is also a common material used for driveways. However, it does not have the same benefits as a concrete driveway.
Asphalt is not as versatile as it cannot be customised like Coloured or Stamped Concrete. Concrete driveways also last longer because the typical life expectancy of Asphalt is around 15-20 years compared to the lifespan of 40 years for concrete.
The main difference, and one to note, is that there is a lot more maintenance involved with Asphalt. A sealer is recommended often (around every 3-5 years) and is often needed to prevent premature cracking. Asphalt can also be poor in absorbing heat and the surface can be hot during Summer.
A concrete driveway provides a more functional and versatile option than using asphalt for your driveway.
Building a concrete driveway
It is best to construct a concrete driveway with professional concrete specialists like us. There are many elements involved and it can be challenging, especially for larger driveways. Careful planning and construction are integral.
Although a DIY concrete driveway may seem like a good idea, having a specialist help you from start to finish will ease a lot of foreseeable complications and pain down the road. There are many factors and steps to consider and achieve properly when constructing a new or rebuilding an old concrete driveway.
There are necessary steps for building a concrete driveway and they include:
Installing forms. Installing forms create an outline for the concrete to be poured into.
Establishing a sub-base. You want to make sure that the sub-base for where concrete will be poured is suitable.
Determining concrete elements such as mixture and thickness
Pouring and curing concrete. This is a very specific process, and it is recommended that you seek professional help to get the process right and avoid any complications.
Call: 0483 907 977
The process of constructing a driveway
The first thing to do if installing a new concrete driveway is to mark the perimeter of your driveway. Then you are to install wooden forms. You will also need a base such as gravel before the concrete is poured. A concrete thickness is also determined by where a taller slab of concrete will be stronger than a shorter slab.
The main things to consider when building a concrete driveway are:
The mixture of the concrete. The mixture of the concrete is important to make sure that the concrete is workable and will set at a texture that is suitable for a driveway.
The angle of the concrete
The thickness of the concrete
The thickness of the sub-base.
Concrete is then poured into an already-established form. You want to be able to spread the concrete to stretch out to the entire perimeter of the form and you can do this with a shovel or hoe. It is best to space out the concrete to fill the entire form.
It is best to also leave these forms in place until after the concrete has cured. Once the concrete has been poured it is then cured for a couple of days.
The curing process is to make sure the concrete doesn't dry too easily. You may need help for this step as if the concrete is not cured properly, it can dry out, become powdery and not stable enough to withstand the weight of a vehicle.
Call: 0483 907 977
Maintaining a concrete driveway
One of the main benefits of using concrete for a driveway is that it is low maintenance. Sealers or epoxies are recommended to be applied every couple of years, but aside from that, a concrete driveway can be maintained with regular cleaning.
A concrete driveway can be cleaned with a normal garden hose or an everyday household broom! You can also use certain products for cleaning that you can get from a home improvement store.
How often you clean will depend on the conditions such as the weather and the amount of vehicle traffic that will pass by.
A driveway is used to house cars and as such the driveway is vulnerable to car fluids such as oils, grease, and other spills. When such spills occur, it is best to clean them up immediately.
If a concrete driveway does discolour you can use pressure washing to clean it. However, if you are going to use pressure washing you need to be aware of what you are doing. If you use a pressure washer in a setting that is too powerful you can ruin some of the concrete driveways. In this instance, it may be best to seek professional help with cleaning your driveway or removing stains.
A common question asked is how to remove tire marks from a driveway. If tire marks are created on a concrete driveway, they can be cleaned with a concrete degreaser and brush.
Chemicals to avoid
There are certain chemicals that should be avoided when cleaning a concrete driveway. Chemicals to avoid include ammonium nitrates and ammonium sulphates as they can cause adverse reactions with the concrete driveway.
Call: 0483 907 977
Repairing a concrete driveway
Although concrete is normally long-lasting and hard to damage, there are instances where a repair of a concrete driveway is needed.
You might need to repair your driveway because:
Of exposure to harsh weather conditions. Because a driveway is exposed to the elements and sometimes not undercover, it is only natural that weather conditions such as snow and severe heat might tarnish a normally durable concrete driveway.
Concrete that is cracking and old. Concrete lasts a long time but can age and cracks might start to form.
Prior bad placement
You are just wanting to upgrade your current driveway. Even if there is nothing wrong with your driveway, you might have a driveway that has not utilised concrete and its benefits.
The best thing to do is to first identify any damage and its cause. It is worth getting professional help to determine the best way to repair it. Rather than completely removing an old driveway, you can easily repair a driveway if the concrete is still sound.
Sometimes the repair of a driveway can be as simple as applying a sealer or coat or it could be as extensive as an entire concrete resurfacing. It is best to use the help of a team of professionals like us with the repair of concrete driveways.
Concrete Footpath
A driveway is not the only path in your front or backyard. Concrete can also be used for footpaths or pathways in any outdoor setting. A concrete path is better than the alternatives of a dirt path or pavement because concrete is more solid, lasts longer and is easier to look after. A concrete footpath is easy to install and can be done in a matter of days.
You can use Coloured or Stamped Concrete to decorate your pathways and to give your home and outdoors a more vibrant look and feel.
A new or well-laid footpath complements a driveway. We can also help you with concrete footpaths that suit your home and driveway.
Call: 0483 907 977
Concrete Shed or Garage
Concrete can be used for more than just a driveway and pathway.
If you are doing outdoor renovations in general, you can also use concrete for the base of a shed. Concrete sheds are a good idea because the concrete makes a shed structurally sound. Like concrete in every other instance, concrete shed floors are durable, long-lasting and require low maintenance.
Other outdoor purposes for concrete
There are many ways that you can use concrete in an outdoor setting.
Besides the driveway, footpaths and shed, concrete can also be used for other outdoor purposes such as:
Patios
Pool surrounds
Fixtures
Entertainment areas
Outdoor pizza ovens
Carports
Car parks
Fixtures
Decorative features
If you need help with your outdoor area in general, we are here to help!
Concrete driveway experts
Whatever you are looking for in your new or old driveway, we are here to help! Located in South Australia, we offer concrete services in Adelaide and have had experience with hundreds of concrete driveways. We have the best team of concreters who specialise in concrete driveways and can curate something that will meet your needs and budget.
With years of industry experience, you can rely on us to get the job done!
Contact us today!
Free On-Site Visit from Our Awesome Team: